Medical Mistakes During Labor & Delivery In Maryland
The trauma of a difficult birth is something no parent should have to go through. When that injury is the direct result of medical negligence or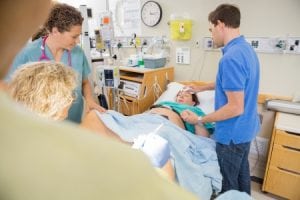 malpractice, however, it's especially important to have a trusted legal professional you can turn to for support and advice. If you or your child has suffered unnecessarily, contact Shulman Rogers today. We will assess your case for free and may be able to help you get compensation for any damages you've incurred due to medical mistakes during labor.
Types of Labor & Delivery Medical Malpractice
The attorneys at Maryland's Shulman Rogers represent clients in a wide range of birth injury and related claims. Some of the types of incidents we can handle include:
Birth injury or trauma: Injury during labor can be caused by a number of factors, including a failure to control blood loss or a failure to properly monitor a child's vital signs during delivery. Improper use of forceps or other types of trauma can lead to skull fractures, hemorrhaging and nerve damage. In many cases, these are preventable injuries that can have a lifelong impact on your child's quality of life.
Wrongful birth: Wrongful birth occurs when a medical professional fails to give parents information that could affect their decision to proceed with a pregnancy. For example, if tests fail to diagnose a genetic condition or other mental or physical disability, the doctor administering those tests can often be held liable. Wrongful birth claims have been recognized in Maryland — parents who proceed with a pregnancy based on incorrect information may be able to sue for economic damages resulting from the child's condition.
Wrongful pregnancy: It is possible to sue for damages if a couple has taken medical steps to avoid or terminate a pregnancy. While most testing and termination methods are generally reliable, physician negligence can lead to mistakes or false positives/false negatives. If this is the case, you may be able to recover damages as a result of an unwanted pregnancy.
These are just three of the most common types of birth-related medical malpractice. Shulman Rogers can advise on your case and let you know whether or not it's worth it to proceed. Contact our medical malpractice attorneys to book your free consultation today.
Bringing a Lawsuit As A Result Of Labor & Delivery Medical Malpractice
Initiating legal action against a medical professional is never easy, particularly following a difficult or complicated birth. However, it is often in your best interest to explore your legal options, particularly as medical expenses begin to mount. A birth malpractice lawsuit can help you recover damages such as hospital bills, lost wages, emotional distress and more.
If you're considering filing for damages, or you simply want a clearer picture of your options, contact the medical malpractice lawyers at Maryland's Shulman Rogers today. Our compassionate, understanding team will provide informed counsel and effective representation throughout this difficult process, so you can focus on yourself and your child's recovery.