Personal Injury Attorneys  Serving Arlington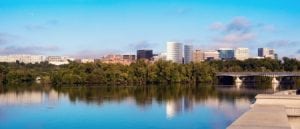 The lawyers at Shulman Rogers are available to assist with all manner of personal injury cases in Arlington, Virginia. We strive to put your needs first with expert advice and tough representation that gets you results when you need it. Keep reading to learn more or contact our office to schedule a meeting with one of our lawyers.
We Will Negotiate For You & Champion Your Rights
We provide representation in all types of personal injury matters, including drunk driving accidents, premises liability (slip and fall) cases and dog bites. Our reputation among lawyers in Arlington is unmatched. We can argue aggressively for your interests in negotiations with insurance companies or, if necessary, take your case to court.
In everything we do, we remain mindful of the stress ongoing legal arguments can have on your recovery. We will work to find the right balance between quickly resolving your case and getting you the best settlement possible.
When The Healthcare System Fails You, We're Here To Help
You pay for premium healthcare and expect service that takes care of you when you need it. In most cases, this is exactly what happens. But when overworked staff, failing equipment or poorly maintained facilities put your health in jeopardy, it pays to explore your legal options.
Shulman Rogers provides representation in medical malpractice cases ranging from diagnostic errors to gross negligence in Arlington. We will work to ensure you are compensated for any additional medical expenses and other losses you suffer as a result of doctor malpractice or hospital error.
We Will Protect Your Interests When the Worst Happens
The sudden loss of someone close to you is understandably an emotional, trying time. Unfortunately, the decisions you make in the immediate aftermath of a wrongful death can have long-term financial implications if not handled properly.
For compassionate care that puts you first, contact Shulman Rogers. Our wrongful death attorneys will help you make smart, forward-thinking choices that protect your interests while remaining respectful of your need to grieve in a stress-free environment. We can put in motion the legal processes that will help you recoup funeral and medical expenses, as well as provide long-term compensation for the great personal and financial loss you have suffered.
With Our Help, FTCA Claims in Arlington Are Made Easier
Injury lawyers in Arlington, Virginia know the challenges of bringing suit against the federal government under Federal Tort Claims Act (FTCA) regulations. If you have been hurt in a veteran's hospital, by a military vehicle or in any other circumstance in which government negligence is at fault, the FTCA allows you to sue for compensation for your injuries.
Shulman Rogers has more than 40 years of experience handling personal injury claims in the local area. Our in-depth knowledge of FTCA and related regulations can help ensure your claim is processed promptly, and you get a settlement that allows you to recover in a safe and stress-free manner.
Schedule Your Free Consultation Today
Make Shulman Rogers your first choice anytime you need a personal injury lawyer in Arlington, Virginia. Contact our office to schedule a free consultation with one of our team members. We will go over your case in detail and give you a straightforward assessment of your legal options.